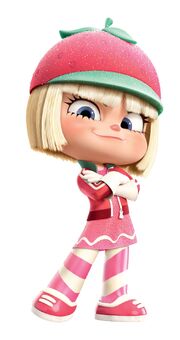 Homeplace: Sugar Rush, Kryssa Lane Koch's home.
Born: 1997 (age 20)
Years active: 1997 - 2016, 2017 - present.
Gender: Female
Occupation: Actress
Hair color: bob-cut platinum blonde
Eyes color: deep periwinkle/blue
Scheme: Hot pink
Activity: Active since 2017
Minions: Sugar Rush Racers
Last known status: Alive
Adorabeezle Winterpop, Gloyd Orangeboar, Candlehead, Rancis Fluggerbutter, Jubileena Bing Bing, Minty Zaki, Snowanna Rainbeau, Crumbelina DiCaramello, Vanellope von Schweetz
Latest info
Edit
Taffyta Muttonfudge is a chaarcter in the real-life series 2016-2017 drama, and the upcoming 2017-2018 drama. She stars Kryssa Lane Koch as the same casting appearance. Unfortunately, Gracie Mayse is starred by Charlene Choi Cheuk-yin, Kylie Eubanks is starred by Kym Jin Sha. She is starred by Angela Napoli, Kryssa Koch, Vicki Zhao Wei. Unfortunately, Taffyta still stars Margo Gru in the new Despicable Me 3, Jolin Tsai plays.
Taffyta Muttonfudge is a minor antagonist in Disney's 2012 film Wreck-It Ralph. She is a prominent racer from the game Sugar Rush and drives a pink, hard candy kart called "Pink Lightning", and her racing theme seems to be strawberry hard candy, and actress Mindy kaling.
Background
Edit
Official Description
Edit
Taffyta Muttonfudge: Serious Competition
The lollipop-lickin' Taffyta Muttonfudge is a top-notch racer in the game Sugar Rush. She is a fierce competitor who keeps her eyes on the prize and isn't afraid to derail anyone who gets in her way. Though King Candy is Sugar Rush's reigning racing champion, Taffyta always manages to give him a run for his money with her wicked driving skills.
Personality
Edit
Taffyta Muttonfudge is a skilled racer from the game Sugar Rush, where she is known to be second only to King Candy, whom she admires and respects. Due to her accomplishments, her ego and confidence have inflated and made her arrogant and cocky. Taffyta is also quite charismatic and can put on quite a charming front; she is evidently popular and the leader of the group of Sugar Rush racers, with Candlehead and Rancis Fluggerbutter being her closest friends. She tends to be bossy and somewhat crass to her competitors, likely because she doesn't see them as her equals. Taffyta's most frequent target for bullying is Vanellope, whom she believes is a glitch capable of getting this game unplugged. Being unquestionably loyal to King Candy, Taffyta takes it upon herself to stop Vanellope from racing, and even influences the other racers to join her endeavors, bullying Vanellope in a truly cruel and abusive manner.
At the end of the movie, when Vanellope is revealed to be the rightful ruler of Sugar Rush, Taffyta is truly remorseful and immediately apologizes for her actions. She shows that despite her attitude, she is mature enough to admit her mistakes. Taffyta is also very dramatic in her emotions, especially in fear, sadness, or anger; she is prone to wailing and bursting into tears whenever she is upset. In the tie-in book, One Sweet Race, which takes place after the movie, Taffyta still apparently enjoys teasing others, which hints that she is just programmed to be arrogant.
Physical Appearance
Edit
Taffyta is a small girl with Chibi-like proportions: she has a large head in relation to a small body. Taffyta has tan skin and a bob-cut platinum blonde hair with low front bangs that cover her dark brown eyebrows. She has a small and rosy jellybean-like nose, and her deep periwinkle eyes are large and animesque. She has thick dark upper and lower lashes that are varnished in mascara, and has rosy cheeks and glossy red lips. She is almost always seen sucking on a strawberry lollipop.
Taffyta's ensemble is almost entirely comprised of shades of pink. She wears a frosted strawberry-themed cap (resembling that of Strawberry Shortcake's, whom is possibly the inspiration for her design) or helmet on her head that doubles as a visor when she's racing. Underneath her hot pink racing jacket, she wears a lighter, frosted pink dress and white-and-pink striped leggings with matching sneakers. She tops her outfit off with white racing gloves.
Appearances
Edit
Taffyta is born in the hospital, when the doctors are using their skills for her parents.
2011-2012
Edit
Taffyta attends the high school*, starting her carrer as a Sugar Rush Racer.
After a grand day of racing, the arcade closes and the racers of Sugar Rush prepare to pay their fee (one gold coin) to race in the daily Random Roster Race. The first racers across the finish line in the race will represent Sugar Rush as the following day's avatars. Being the second most successful racer in the game, Taffyta deposits her coin after King Candy. Suddenly, Vanellope, in disguise, uses a gold medal from a game-jumping video game villain named Wreck-It Ralph to get herself into the race. King Candy orders his security team, Wynnchel and Duncan, to capture her, but Ralph's accidental interference allows Vanellope to escape. When Taffyta notices this, she puts it into her own hands to prevent the glitch from racing. Vanellope heads to the junkyard where she puts the finishing touches on her makeshift, peddle-powered kart. Taffyta and the other racers arrive at the junkyard and command Vanellope to drop out, as King Candy told her glitches can't race. Vanellope refuses and Taffyta begins to destroy her kart. The other racers join Taffyta in destroying the kart as well. In an attempt to make her stop, Vanellope pulls Taffyta away from the kart, but this angers her to the point she jabs her and pushes her into a mud puddle. Ralph comes and sees this and, even though Vanellope had stolen his medal but was unable to stand Taffyta bullying her, chases Taffyta and the other racers away.
Taffyta is later seen at the Random Roster Race and is in second place, behind King Candy and ahead of Candlehead and Rancis Fluggerbutter. They see Vanellope with a new kart and try to run her off the track with cherry bombs. As they drive into a cannon, however, Vanellope suddenly glitches in front of them. This spooks the three into spinning out, and they miss the higher part of the course when they are shot out of the cannon, falling into a cupcake frosting below. Rancis is shocked, Candlehead freaks out over her candle being blown out, and Taffyta starts crying. When the Cy-Bugs attack, Taffyta (even though she was never seen) and the other citizens of the game retreat to Game Central Station. After King Candy is revealed as Turbo and is defeated, Vanellope crosses the finish line and Taffyta's memory is restored, turning out that King Candy has messed with Vanellope's programming and she is actually the rightful ruler of Sugar Rush, a princess.
Horrified at what they have been doing, the racers apologize, blaming Taffyta for making them bully Vanellope. Taffyta apologizes as well, but Vanellope says she will have her and the other Sugar Rush racers executed for being mean to her, driving them into panic and causing Taffyta and the others to cry about their impending death. Vanellope reveals she is just joking and accepts her apology. Shortly after, Taffyta and the other racers gather around Vanellope, and Taffyta gives Vanellope a thumbs up as they reconcile and become friends. Taffyta makes a final appearance with the rest of the film's characters at the wedding of Fix-It Felix, Jr. and Sergeant Calhoun.
Wreck it Ralph 2
Edit
Taffyta Muttonfudge will return in Wreck it Ralph 2 to meet again in Sugar Rush around March 9th, 2018. But, as according to news, Wreck-it Ralph 2 will release as the same date.
Real Life: 2013-present
Edit
Starting August 2013, her appearance was the same as Vicki Zhao Wei's actress, similar to Margo Gru in Despicable Me.
2015-2017
Edit
Unfortunately, Taffyta Muttonfudge makes same appearance. She wore the outfits, like the Racerback Bra (white, gray, black), and rarely the White Dress inside her jacket, just like Vicki Zhao Wei's actress. Also, Kryssa wears gray T-Shirt with cyan short sleeves, and black racerback bra, and someday, Kryssa wears a white tank dress with black racerback bra inside her shirt/jacket.
April-June 2017
Edit
The time flies. Taffyta Muttonfudge has turned 20, she's still stars Kryssa Lane Koch in the drama action series. In her appearance, she wore a black women's bra inside her clothes when she appeared again in April. On April 6th, Kryssa wore a peach and black-and-white striped racerback bra with her bow inside her clothes.
August 2017
Edit
Taffyta will appear as Kryssa, starting Episode 1 in 2017-2018 drama. She wore a black racerback lacey bra inside her clothes.
"Taffyta" is actually a portmanteau of "Tabitha" and "Taffy".
Her name is made up of 3 different foods: taffy, mutton and fudge.
Though her role in the film is relatively small, Taffyta was one of the most heavily marketed characters from the film.
During the time of the film's release, Taffyta's voice actress, Mindy Kaling, used a promotional image of Taffyta as her Twitter icon.
Taffyta wears dark brown or black mascara, and it can be seen running down her face as she sobs during Vanellope's execution joke.
Taffyta is the only Sugar Rush racer who wears a dress beneath her racing jacket; all the other female racers wear a top and a miniskirt.
She's also the only racer that has gloves.
In the film, she shares a similar role with Gene, whom antagonizes Ralph, telling him that he will never be a hero as his only purpose is to wreck the building. Comparatively, Taffyta tells Vanellope she will never be a racer, because she is nothing more than a glitch.
Taffyta plays Jolin Tsai (Margo Gru, where Jolin sing in the concert, such as Love Love Love, or We're All Different, Yet the Same) in Despicable Me 3. Edith Gru is posed like this racer.
She is starred in the University, as of 2016. Unfortunately, Jolin Tsai is starred.
Main Appearance
Edit
Allison Heart (Zhang Ziyi 章子怡 - 장쯔이)
Angela Napoli (Kryssa Lane Koch 赵薇 Vicki Zhao Wei)
Jenny Garcia (Emily G. Prager (蔡依林 Jolin Tsai (Tsai Y-lin))
Emily O'Malley (Lena R. Roberts 林心如 Ruby Lin Xinru - 임심여)
Amber Jackson (Skie Vertz (林依晨 Ariel Lin Yi-Chen)
Evelyn Napoli (Jessica K. Green 周迅 Zhou Xun)
Sophia Gomez (Sierra Wilson (王菲 Faye Wong Fei (Wang Fei), Kaelyn Jade Denny (Miranda Taylor Cosgrove))
Robin Fisher (Makenna N. Carpinella, Kimberly Rea Aguilar (陳慧琳 Kelly Chen Wai-lam)
Jenny Pope (Allison Scott 范冰冰 Fan Bing Bing - 판빙빙)
Lisa Asher (Kylie Eubanks 金莎 Milansa/Kym Jin Sha)
Mary Vanderworth (Sofia Cervantes Rodriguez, Mykayla Burkard - Michelle Chen 陳妍希)
Virginia Hills (Zanilia Zhao Li Ying 赵丽颖)
Hu Ge (胡歌)
Michelle Bai Bing (白冰)
Sophia Rivera Gonzalez - 任家萱 (Selina)
Brigid Duffy (Yanetzy Larios Nunez, Daniela Tamayo Hernandez Yao Chen 姚晨 - 요신)
Ruth Phelps (Juliana Kluck, Gracie Mayse (Cantopop duo Twins; 鍾欣潼 Gillian Chung Yan Tung, 蔡卓妍 Charlene Choi Cheuk-yin))
Cathy Bradford (Ilyssa Iyulores 陳喬恩 Joe Chen Qiao En, Chen Chiao-En)
Kate O'Malley (Flor Armas Estrada (黄圣依 Eva Huang Sheng Yi)
Alexa Arellano, Anahi Borjon Flores (Katie Lowes, Angelababy (杨颖/Angela Yeung))
Amy Cares (Maria Jose Cabrera Estrella, Taylor George - Josie Trinidad, 王心凌 Cyndi Wang Xin-ling)
Nichole Enriquez, Kamryn Prince - Fala Chen (陳法拉)
Sally Milligan (Jesamyn Velasco, Mindy Kaling, 容祖兒 Joey Yung)
Special Appearance
Edit
Guest appearance
Edit
Favorite characters/Wikiwand
The Giver: Fiona, Chief Elder, The Giver

Zootopia (疯狂动物城): Lt. Judy Hopps, Nick Wilde, Dr. Madge Honey Badger, Mrs. Dharma Armadillo

The Water Horse: Legend of the Deep: Angus MacMarrow

Ralph breaks the Internet: Queen Elsa of Arendelle, Princess Anna, Rapunzel Fitzherbert, Cinderella, Snow White, Ariel, Belle, Princess Jasmine, Tiana

Wreck-it Ralph: Vanellope von Schweetz, King Candy, Taffyta Muttonfudge, Candlehead, Sergeant Calhoun, Fix-it Felix, Jr, Rancis Fluggerbutter, Jubileena Bing-Bing, Crumbelina DiCaramello, Adorabeezle Winterpop, Gloyd Orangeboar, Minty Zaki, Minty Sakura, Snowanna Rainbeau, Swizzle Malarkey.

Frozen: Princess Anna, Elsa, the Snow Queen, Kristoff Bjorgman, Prince Hans, Olaf

Mr. Peabody and Sherman: Mr. Peabody, Penny Peterson

Despicable Me: Lucy Wilde, Felonius Gru, Dr. Nefario, Eduardo "El Macho" Perez, Balthazar Bratt Dru Gru, Margo Gru, Edith Gru Agnes Gru, Antonio Perez

Minions: Scarlet Overkill/Herb Overkill

Rio: Blu, Jewel, Eva, Linda, Tulio, Nigel, Pedro, Nico

Epic: Mary Katherine / Leafmen

Beauty and the Beast: Belle

Tangled: Rapunzel Fitzherbert, Eugene Fitzherbert/Flynn Rider

The Princess and the Frog: Tiana

Aladdin: Jasmine

Big Hero 6: Hiro Hamanda, Baymax, GoGo Tomago, Honey Lemon

Inside Out: Joy, Riley Andersen, Sadness, Disgust

Toy Story: Bonnie Anderson, Woody, Buzz Lightyear, Jessie, Hamm, Mr. Potato Head, Mrs. Potato Head, Rex, Slinky Dog, Barbie, Ken

Home: Oh, Gratuity "Tip" Tucci, Lucy Tucci

Moana: (character)

Sahara: Eva, Ajar, Gary

Angela Napoli, Jenny Garcia, Virginia Hills, Amber Jackson

Angela Napoli, Jenny Garcia, Amber Jackson, Virginia Hills, Yum-mee, Sally, Cindy, Peter
Become Truly
Truly, the Announcer; Eric, Truly's boyfriend; Victoria from Alabama, USA; Lori, from New York (same as Angela)
Fabulous Angela, Heart's Medicine, Delicious Emily, Forsaken Sword Reborn, Chicken Invaders/Minecraft Stars, Adorable Girlfriends/Of The Star, Tools of the Star
Angela Napoli, Victoria, Emily O'Malley, Jenny Garcia, Amber "Kitty" Jackson, Virginia Hills, Evelyn Napoli, Edward Napoli, Fran Handford
Emily O'Malley, Francois Truffaut, Patrick O'Malley, Angela Napoli, Eduardo Napoli, Evelyn Napoli, Antonio Napoli, Brigid Duffy, Jimmy, Paige O'Malley, Kate O'Malley
Heart's Medicine
Daniel Summers, Connor McCoy, Ruth Phelps, Allison Heart, Emily O'Malley, John Summer, Chance Foley, Robin Fisher, David Quinn, Jenny Pope, Joe Albright, Sophia Gomez, Michael Owen, Mason Hamilton, Lisa Asher
Mary Vanderworth, Emily O'Malley
Dr. Amy Cares, Emily O'Malley, Paige O'Malley
Cathy Bradford, Emily O'Malley, Paige O'Malley
Sally Milligan, Francois Truffaut, Emily O'Malley, Patrick O'Malley, Paige O'Malley, Angela Napoli, Allison Heart, Evelyn Napoli, Eduardo Napoli, Jenny Garcia
Actors/Actresses
趙薇 (Vicki Zhao Wei), 杨幂 (Mini Yang Mi), 林心如 (Ruby Lin Xinru), 周迅 (Zhou Xun), 金莎 (Kym Jin Sha), 陳數 (Chen Shu) , 安以轩 (Ady An), 林依晨 (Ariel Lin Yi-Chen), 范冰冰 (Fan Bing Bing), Twins (钟欣桐 (鍾欣潼 Gillian Chung Yan Tung) (aka 阿嬌), 蔡卓妍 (Charlene Choi Cheuk-Yin) (aka 阿Sa), 鍾嘉欣, 王菲 (Faye Wong), 陳慧琳 (Kelly Chen Wai-lam), 蔡依林 (Jolin Tsai Yi-Lin), 黄圣依 (Eva Huang Sheng Yi), 章子怡 (Zhang Ziyi), 陳喬恩 (Joe Chen Qiao En), 姚晨 (Yao Chen), 陳妍希 (Michelle Chen), 陳意涵 (Ivy Chen) 鄧紫棋 (Gloria Tang), S.H.E (Selina (任家萱), Hebe (田馥甄), Ella (陳嘉樺)), 舒淇 (Shu Qi), 王心凌 (Cyndi Wang Xin-ling) 唐嫣 (Tiffany Tang), Angelababy (杨颖/Angela Yeung), 林志玲 (Lin Chi-ling), 陳法拉 (Fala Chen), 安心亚 (Amber An Xinya), 刘庭羽 (CiCi Liu Tingyu), (Peter Ho, Julian Cheung, So Ji-sub, Alec Su, Leo Ku Kui Kei, Wallace Huo
Kryssa Lane Koch, Jessica K. Green, Kylie Eubanks, Lena R. Roberts, Allison Scott, Alexa Arellano, Tiffany Jean Shults, Juliana Kluck, Makenna N. Carpinella, Flor Armas Estrada, Elizabeth Torres, Skie Vertz, Sierra L. Wilson, Jesamyn Velasco, Emily G. Prager, Gracie Mayse, Taylor George, Lauren Isabella Munda, Kaelyn Jade Denny, Ilyssa Iyulores, Sophia Rivera, Yanetzy Larios, Mykayla Gomez Burkard
Fabulous, the World Hero, Goddess, the Greatest Hero, Solarus, the Galaxy Star, Silkrus, the Touching Star, Forestrus, the Tree Star, Darkness, the Haunted Hero, Mythrus, the Sword Star, Ferocious, the Flaming Star, Skyprus, the Pilot Star, Archerus, the Flaming Hero, Angela Napoli's Infinity Bow, Ironmanius, the Strip Star, Terrarius, the Earth Star, Cropnalus, the Farming Star, Fishermanius, the Fishing Star, Angelius, the Heavenly Star, Leafimanius, the Leaf Star, Flamminus, the Fiery Star, Flippers, the Diving Star, Frostrus, the Magic Star, Leggings, the Racer Star, Taffyrus, the Sweetest Star, Strawcap, the Vision Star, Boostrus, the Rider Star, Defendrus, the Minion Star
ReNDoG's Fans
ReNDoG's Tools of the Endergods
Terra, Fang, Rambow, Claw, Paw, Bark
ReNDoG's Tools of Star
Cyberus, The World Star, Argus, The Blade Star, Ortheus, The Fire Star
ReNDoG, FalseSymmetry, Biffa2001, Cubfan135, KingDaddyDMAC, Docm77, Ethoslab, GoodTimesWithScar, Hypnotizd, iJevin, Iskall85 (ahlviktor), ImpulseSV, Jessassin, JoeHillstsd, Keralis, MonkeyFarm, Mumbo Jumbo, PythonGB, Sl1pg8r, TangoTeklp, TFC (selif1), Topmass (minecrafted), Welsknight, xBcrafted, Xisumavoid, ZombieCleo, Zueljin
ReNDoG's tools
HermitCraft IV
Pickscalibur X, Sir Lancelog VII, Logolas Reborn VIII, Logonario DiCaprio III, X-Bow of Flaming Degradation, Butt-Booster 4.0, Wings of the Dog, Helmet of the Dog, Leggings of the Dog, Boots of the Dog, Silkinator 3000, Devil's Whip
HermitCraft V/Minecraft Survival
Terra, Worldbender, Fang, Deathbringer, Rambow, Flamebringer, Paw, Dirtgrinder
GLaDOS, Wheatley, Cave Johnson, Turrets, Defective Turrets, Caroline, Personality Cores
Playable characters
Big Chicken, Unindentified Chicken Object, Mother Hen-ship, Sweater Chicken, Mysterious Ship, The Yolk-Star, Super Chicken, Giant Robotic Space Crab, Infinity Chickens, Planetary Egg City, The Alien Mothership, Apple Core, The Iron Chef, Egg Cannon, CK-01 Henterprise, Military Chicken, Party Chicken, Jellyfish Chick, The Henperor's Apprentice, Heart of Darkness, Ice Golem Chicken, Hen House, CK-02 Event Horizon
Weapons
Ion Blaster, Neutron Gun, Laser Cannon, Vulcan Chaingun, Lightning Fryer, Plasma Rifle, Utensil Poker, Boron Railgun, Photon Swarm, Positron Stream, Hypergun, Riddler, Corn Shotgun
Highscores
Revenge of the Yolk, Ultimate Omelette, Cluck of the Dark Side
Careers
Revenge of the Yolk, Cluck of the Dark Side
Deadliest Players
Revenge of the Yolk, Cluck of the Dark Side
ROBLOX Scams/Wikiwand
Edit
1. Go to http://robux.college/ 2. Copy and Paste this on 2 different games when you are done 3. Check your messages 4. Look at your robux Teroare2012 Check out roblox.help! I generated 25k robux!
Stop those scammers! They will not get away with this! "Free Robux" Is not a thing! You will loose your account! (Copy and paste this to stop scammers!) ~Angela Napoli
Roses are red🌹 Scams aren't cool❌ You'll just lose your account👤 Your such a fool👥 Nobody likes them👎 Nobody cares🙅 Copy and Paste to stop scammers! 👍 ~Angela Napoli
Stop with those scam Sstes! You will lose your account! I can report to all comments that is a scam! (Copy and paste to stop scammers!) ~Angela Napoli
Get 99999999 ROBUX
Edit
Youngrichboi1234 Builderman told me how to get 99999999 robux 1. Copy paste this comment on 10 games 2. Log out 3. Login 4. Go to you profile 5. Look a your robux It works no lie 4 EASY STEPS TO GET ROBUX!!! 1. Join my game. 2. Get on the motorcycle 3. Ride around 4. GET TONS OF ROBUX follow me for updates LinxieBoo03 FREE ROBUX 200,200,000 R$ [Random glitch]1.Copy and paste this onto 2 games 2.Log out and log back in again 3.Look at your total R$ ### 30, 2016 | 8:39 PM
Aezuica: I haven't seen those in quite a while, I usually see the phising site scam.
ROBUX Websites
Edit
The YouTube video is: Comments removed!?
WAIT... VERIFY ITS YOU! Copy any paste this message below on 5 front page games to get your robux: Hurry go to rcblox.gq for free ro bux and bc. Waiting for verification from server... You will be rewarded soon after you post.
Copy and paste this at 5 front page games to revive your robux! HERE:
Are you poor? Do you need Robux??? Roblox is giving away 10Million robux! go to this site: such as robux.ru robux.li robux.es robux.org roblox.work limiteds.ch robyx.ml r0blox.ga roblcx.tk rcblox.gq <---
Are you poor? Do you need Robux??? Roblox is selling robux!! Just work for money and buy your robux! <---
are you poor? do you need robux? roblox is giving away NOTHING all of you new people those don't work you don't get free robux you need to pay for robux okay?
Image pages
Edit
Fabulicious! Angela Napoli highest score ever is 324,676,736
Windows 7 Build 7601 This copy of Windows is not genuine
Actors and Actresses
Edit
Kryssa Koch, Jessica Green, Kylie Eubanks, Lena Roberts, Allison Scott, Alexa Arellano, Tiffany Shults, Juliana Kluck, Makenna Carpinella, Flor Armas Estrada, Elizabeth Torres, Skie Vertz, Sierra Wilson, Jesamyn Velasco, Emily Prager, Gracie Mayse, Taylor George, Lauren Munda, Kaelyn Denny, Ilyssa Iyulores, Sophia Rivera, Yanetzy Larios, Mykayla Buckard, Sofia Cervantes Rodiguez, Daniela Tamayo Hernandez, Fatima Silva Iniguez, Maria Cabrera Estrella, 赵薇 (Vicki Zhao Wei), 杨幂 (Yang Mi), 陳數 (Chen Shu), 林心如 (Ruby Lin Xinru (中华民国)), 安以轩 (Ady An Yi xuan), 林依晨 (Ariel Lin Yi-Chen), 蘇有朋 (Alec Su You Peng), 范冰冰 (Fan Bingbing), Twins (鍾欣潼 (Gillian Chung Yan Tung), Charlene Choi Cheuk-yin (蔡卓妍)), including Kelly Chen Wai-lam (Chen Huilin) (Vivian Chen Wai-man) (陳慧琳), Zhou Xun (周迅), Faye Wong (Wang Fei) (王菲), Jolin Tsai (Tsai Y-lin) (蔡依林), Milansa/Kym Jin Sha (金莎), Eva Huang Sheng Yi (黄圣依), Zhang Ziyi (章子怡), Joe Chen Qiao En (陳喬恩), Shu Qi (舒淇), Cyndi Wang Xin-ling (王心凌), 张靓颖 (Jane Zhang), 赵丽颖 (Zanilia Zhao Li Ying), 鄧紫棋 (Gloria Tang), 王力宏 (Wang Lee Hom), 陳妍希 (Michelle Chen), 唐嫣 (Tiffany Tang), 林志玲 (Lin Chi-ling)
Chinese Odyssey 2002 (天下无双), Painted Skin (2008, 画皮), Painted Skin: The Resurrection (畫皮 II), The Socerer and the White Snake (白蛇传说), The Fox Lover (白狐), Sophie's Revenge (非常完美), The Monkey King (西遊記之大鬧天宮), My Lucky Star (非常幸运)
TV series
Edit
Painted Skin - The Resurrection (畫皮之真愛無悔), My Fair Princess, Return of the Pearl Princess, Princess Returning Pearl, Princess Pearl. Huan Zhu Ge Ge (還珠格格), Romance in the Rain (情深深雨濛濛), Mei Ren Xin Ji / Schemes of a Beauty, aka Beauty's Rival in Palace (美人心計), My Fair Princess 2011 TV series (新还珠格格), Qing Shi Huang Fei - The Glamorous Imperial Concubine / Introduction of the Princess (傾世皇妃), Holy Pearl (女媧傳說之靈珠), Fairy Fox / Hu Xian (聊斋之狐仙), The Myth (神话), My Bratty Princess / Mischievous Princess (刁蛮公主), Love of the Millennium (又见白娘子), 蘭陵王 (Prince of Lan Ling), Tiger Mom TV series (虎媽貓爸), 笑傲江湖 (2013 Swordsman, Game Chicken Invaders/ROBLOX/Minecraft/Dynasty Warriors/Final Fantasy), 白蛇传 (Madame White Snake 2006), 神鵰俠侶 (2014年電視劇) (The Return / Romance of the Condor Heroes), 16個夏天 The Way We Were), 天外飛仙 The Little Fairy, 咱们结婚吧 (We Get Married)
Producers
Edit
原著 (Original)
出品人 (Executive Producer)
总出品人 (Total Executive Producer)
联合出品人 (Co-Executive Producer)
总监制 (Total Producer)
监制 (Producer/Studio Manager)
编剧 (Screenplay)
作曲 (Composer)
国内发行 (Domestic distribution)
海外发行 (Overseas distribution)
文学编辑 (Literary editor)
美术设计 (Art design)
造型指导 (Modeling guidance)
动作导演 (Action Director)
梳妆师 (Dresser)
化妆师 (Makeup artist)
摄影师 (Photographer)
剪辑师 (Editor)
导演 (Director)
总导演 (Total Director)
制片主任 (Production manager)
总制片主任 (Chief Production Officer)
執行制片人 (TV Producer)
总制片人 (Total Studio Manager)
制片人 (Moviemaker, studio manager, producer)
艺术总监 (Artistic director)
领衔主演 (Starring)
神鵰俠侶 (1984) 主題曲
今天你要嫁给我 (Marry Me Today) - David Tao, Jenny Garcia (Jolin Tsai/蔡依林)
Fan Zhe Ba by Kym Jin Sha and Alec Su (刁蛮公主) (发行许可证: (广剧)剧审字(2005)第137号)
千年等一回 (OST Legend of the White Snake 2011) by 李永杰、真雪儿 (发行许可证: (琼)剧审字(2011)第001号)
老鼠爱大米 Mouse love rice by Twins (Gillian Chung, Charlene Choi)
動物森林 電視劇《虎媽貓爸》 片头曲 - 範瑋琪
Introduction of the Princess by Ruby Lin
傾聽我 by Ruby Lin 电视剧制作许可证: 甲第186号
Falling Flower Ruby Lin, a ROBLOX Music Video!
OST Fairy Fox (白狐) 发行许可证: (粤)剧审字(2012)第028号
入陣曲 (蘭陵王 (電視劇))
手掌心 - 丁噹 (Della Wu Dang) (電視劇 蘭陵王片尾曲)
雨蝶 (還珠格格 片尾曲)
以下時段,翡翠台與高清翡翠台 將進行同步廣播,一同享受視聽震撼!
以下時段,翡翠台與高清翡翠台 將進行分途廣播,提供雙重精彩!
陳慧琳 sings 每日種一個願望, 记事本 with Steve Chou 周傳雄
花千骨 插曲: 愛殤
非常完美 主题曲: 难得有情人
曾经的约定 (傾世皇妃 插曲) - 林心如, BY2
雕花笼 (电视剧 美人心计 插曲) - 董贞 (ROBLOX Titanic: 1st Class / VIP, Crew Member / Super VIP, Captain / Outrageous VIP, The site is currently offline for maintenance and upgrades. Please check back soon! Our payment system is currently under maintenance. Please check back shortly! (Back to ROBLOX), Unexpected error with your request, plesse try again in a few moments / Requested page not found, You may have clicked an expired link or mistyped the address. / Access Denied - Sorry, you don't have permission to view this page!)
王菲 - 容易受伤的女人(国语)
Love love Love by Jolin Tsai Y-Lin (蔡依林)
連續劇 (On Call 36小時 II 片尾曲, On Call 36小時 主題曲) - 容祖兒 (Joey Yung)
渡情 (又见白娘子 片尾曲)) - 左宏元、张慧清 (电视剧制作许可证:甲第221号)
相思 (西游记后传) - 毛阿敏
Proud of You - Fiona Fung
My Pride (我的驕傲) - 容祖兒 (Joey Yung) (国语,粤语)
A little love - Fiona Fung
世上只有 (Only You in The World) - 容祖兒 (Joey Yung)
何紫慧 - I Do (TVB劇集"Only You 只有您"主題曲)
劉詩詩-等你的季節 (Scarlet heart Ending Theme Song 2)
乌龙闯情关 片尾曲: 太多
远处有座山 - 曹芙嘉 (寶蓮燈前傳 片尾曲)
你是我的 - 蘇有朋 (刁蛮公主 片尾曲) 乙第17298号
不能和你分手 - Vicki Zhao Wei (趙薇) (還珠格格 第一部 主題曲)
自從有了你 - Vicki Zhao Wei (趙薇) (還珠格格 第二部 主題曲)
有一個姑娘 - Vicki Zhao Wei (趙薇) (還珠格格 第一部 & 第二部 片尾曲)
你是风儿我是沙 梦里 - Ruby 林心如 (還珠格格 第二部 片尾曲)
花太香 (白蛇传说 插曲) - 任贤齐
神鵰俠侶 (2014年電視劇) 片头曲 《浩瀚》 (发行许可证号 : (京)剧审字(2014)第067号)
Romantic Love (OST Sophie's Revenge) - Jessie Chiang
射鵰英雄傳 2008 主題曲 - Ronald Cheng 鄭中基 (电视剧发行许可证: (广剧)剧审字(2008)第050号)
OST The Little Fairy - S.H.E, Tank.
你我(神鵰俠侶 片尾曲)(陳妍希& 陳曉) 华夏视听环球传媒(北京)股份有限公司 制作许可证号: 甲第203号
Meet Girl (sophie's Revenge) - Cho Kyu Chan
射鵰英雄傳 2008 片尾曲 (电视剧制作许可证号码: 甲第008号)
天師鍾馗之美麗傳說 片尾曲 - 浙江華策影視股份有限公司 (电视剧拍摄制作许可证编号码:乙第11282号)
華視主頻收播
江南 - 林俊杰 (VIP for Lemonade Stand Tycoon - by PacificTycoons, aka SupaSonic4ever)
原谅我过去不懂 (精卫填海主题曲) - 李殊
原谅 - 刘瑞琦, 張玉華
还是好朋友 (Still Best Friends) - Maria Cabrera Estrella (Cyndi Wang/王心凌)
不是因为寂寞才想你 - T.R.Y (Cyndi Wang/王心凌, Gracie Mayse (Charlene Choi/蔡卓妍), Kryssa Koch (Jolin Tsai/蔡依林), insaneheadspace: Fabulous: Angela's Sweet Revenge - Annnnnd, so happy to see there is a mini-mouse game (just like in Delicious)!! Check you have found the mouse for each day by looking at the Calendar/level summary page; Platinum Edition Free and Fast and No Captcha Download Links; Heart's Medicine: Time to Heal Trophies - Select a trophy to see how to achieve it.)
风雨无阻 by 周华健
爱情专属权 (电影 西遊記之大鬧天宮 插曲) - 龍梅子&老貓
天使的翅膀 (电视剧 傾世皇妃 片尾曲)- 安琥
得意的笑 (御前四宝主题曲) - 李天华 (广剧)剧审字(2005)第035/635号)
青蛙最伟大 (御前四宝片尾曲) - 孙逊, 馨梓 (制作许可证号:甲第061号)
我会好好的 - Maria Cabrera Estrella (Cyndi Wang/王心凌) (Activate Windows - Go to Settings to activate Windows. 激活Windows - 转到"设置"以激活Windows。)
忘了爱 - 梁碧友 (Windows 7 内部版本7601 此Windows副本不是正版)
無心害你 - Susanna Kwan (关菊英) (TVB剧 溏心風暴之家好月圓 主题曲)(发行许可证号:(粤)剧审字(2008)第126号,制作许可证号:乙第11000号)
陳法拉- 愛情轉駁(TVB劇集"誘情轉駁"主題曲)
弃权(国语),心淡(粤语) - Sally Milligan (Joey Yung/容祖兒)
我曾经最爱的女人 - 刘尊&郭彤
為什麼相愛的人不能在一起 - Jacky Zheng
原来我是第三者 - 威仔、格子兮,刘增瞳、箱子君
讓全世界知道我愛你 - 六哲 賀敬軒
新娘不是我 - 程响
不像话 (Nothing To Say) - 吕蔷
谁在意我留下的泪
咱们结婚吧
我的快乐就是想你
沒有你陪伴真的好孤單 - 夢然, 小虾米
涼涼 - 楊宗緯、張碧晨 (电视剧 三生三世十里桃花 片尾曲)
金缕衣
为你伤自己的心
繁花 (三生三世十里桃花) - 董贞
在心里从此永远有个你 - 江智民 & 周虹
寶貝寶貝我愛你
不僅僅是喜歡 - 孫語賽、蕭全
2004-2018 ROBLOX corporation.
2009-2018 Ruby Lin Studio (林心如工作室)
承制方: 蔡依林(台湾)影視文化工作室
劉愷威工作室
出品方: Tools of the Star Corp. (2013-2016)